Overview

A bunion is a bony bump that forms on the joint at the base of your big toe. A bunion forms when your big toe pushes against your next toe, forcing the joint of your big toe to get bigger and stick out. The skin over the bunion might be red and sore. Wearing tight, narrow shoes might cause bunions or might make them worse. Bunions can also develop as a result of an inherited structural defect, stress on your foot or a medical condition, such as arthritis. Smaller bunions (bunionettes) also can develop on the joint of your little toes.

Causes
It is thought that the primary cause of bunions is a mechanical instability in the big toe joint. There are a number of different reasons as to why this may happen. Bunions tend to run in families so a person with a family history of bunions has an increased risk of developing them. Factors that are known to increase the risk of bunions include wearing improperly fitting shoes (particularly narrow and/or high-heeled shoes). Certain arthritic conditions and ligament disorders. Age (the incidence of bunions increases with age). Being flatfooted with feet that roll inwards (over pronation). Past injury (trauma) to the foot. Nerve conditions affecting the foot. Bunions most commonly affect women (approximately 90% of cases) and are less common in people who do not regularly wear shoes.

Symptoms
If you have a bunion, you may have pain or stiffness of your big toe joint, swelling of your big toe joint, difficulty walking, difficulty finding shoes that fit. These symptoms may be caused by conditions other than bunions, but if you have any of these symptoms, see your doctor.

Diagnosis
Diagnosis begins with a careful history and physical examination by your doctor. This will usually include a discussion about shoe wear and the importance of shoes in the development and treatment of the condition. X-rays will probably be suggested. This allows your doctor to measure several important angles made by the bones of the feet to help determine the appropriate treatment.

Non Surgical Treatment
Separating the big toe and the next one with a 1 cm thick piece of foam can relieve painful symptoms. This can be fixed in place with some zinc oxide plaster tape and has the effect of straightening the great toe and relieving pressure on the bunion. A taping technique will support the joint and relieve the pressure on the inside of the foot. Off the shelf orthotic insoles can be worn to help correct any biomechanical problems in the foot which may be causing the problem. If the foot rolls in or over pronates then this causes the arch of the foot to flatten and more pressure is placed on the base of the big toe where the bunion forms. A podiatrist is a therapist who specializes in feet. They can do a full gait analysis and make orthotic inserts to correct biomechanical foot problems. Severe cases may require surgery to realign the joint but this is a last resort if conservative treatment has failed.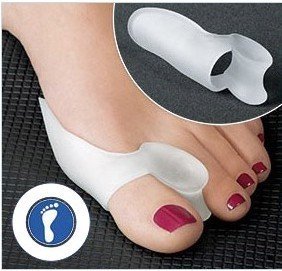 Surgical Treatment
The decision on bunion operative treatment is usually made on the basis of the level of pain and inconvenience caused by the bunion or second toe. There is no correct answer to the question, bunion pain and inconvenience are both highly subjective. An inability to get into a formal shoe may be a major problem for a business woman or man but no problem at all for someone wearing trainers every day. However in general if a bunion is free of pain then the recommendation would not be for surgery. That said, this is not an absolute. Once a patient has read this section and appreciated what surgery and the recovery entails the patient will be in a better position to discuss the possibility of bunion surgery for their symptoms.

Prevention
The best protection against developing bunions is to protect and care for your feet every day. Avoid tight and narrow-fitting shoes. Limit your use of high heels. Wear comfortable shoes with adequate space between your longest toe and the end of the shoe. Getting treatment for very flat or very high-arched feet (if you are experiencing symptoms) will give your feet the proper support and help maintain stability and balance.